With its ergonomic, operator friendly design, your Taylor-Dunn stockchaser promotes safety and efficiency during operations. These stockchasers have been engineered to allow more room in the operator's compartment, as well as the cloverleaf steering wheel design that allows for ease of turning and quick response. Taylor-Dun stockchasers have a turning radius of 67 inches, making them a perfect solution for narrow and tight spaces, plus they have the capability of towing up to 5,000 lbs. of product, allowing your employees to be more productive.
Contact Madland Toyota-Lift for more information.
Features & Customizations
As with all Taylor-Dunn vehicles, ergonomics, including a low step height for increased comfort, provide operators an easier way to enter and exit the vehicle, increasing productivity and safety. They are powered with a choice of 24, 36 or 48-volt AC battery, reach speeds of up to 8 mph with a range of 20-40 miles, can move up to 1,000 lbs. and tow up to 5,000 lbs. Customization is simple, with options to fit your unique applications, including adding items such as a second deck to facilitate moving extra cargo, a laptop table powered by the equipment for usage while moving through the warehouse, a multiple step ladder to safely climb and reach items, extra storage for documents, detachable sides and rail guards to aid in securing loads that may shift during operations.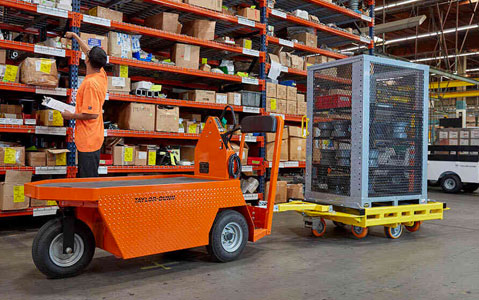 Solving Industry Challenges
Taylor-Dunn stockchasers solve industry challenges in manufacturing and warehousing by providing a stock picking, tugging and maintenance option. Included are safety features such as rotary forward/reverse switch with LED direction indicator, reverse beeper and operator presence sensor. More safety options include an onboard charger, strobe light, clipboard holder, high-visibility LED headlight and high-capacity batteries.